Hi,
I tried to insert date into database.
The date is based on the status. If the status is "COMPLETE" then it will insert today's date while if the status is other than complete, the date is null.
The problem is the date become default date instead of null and current date.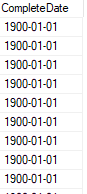 $today = date("Y-m-d");
for($row = 1; $row <= $highestRow; ++$row) {
	if($row != 1)
	{
		
		$order= $sheet->getCell('A'.$row)->getValue();
		$name= $sheet->getCell('D'.$row)->getValue();
		$age= $sheet->getCell('E'.$row)->getValue(); 
		$status= $sheet->getCell('S'.$row)->getValue();
		
		
		 
		if($status== "Completed")
		{
			$date = $today;
		}
		else
		{
			$date = null;
		}
		
		$checksql = "SELECT * FROM Customer where order_no = ? ";
		$checkparam = array($st);
		$chk = sqlsrv_query( $conn, $checksql, $checkparam);
		$chkrow = sqlsrv_fetch_array($chk);
				
			
			
			if($chkrow == null)
			{
				$sql = "INSERT INTO Customer (order_no, name, age, status, CompleteDate) VALUES (?,,?,?,?,'$date')";
				$params = array($order, $name, $age, $status);
				$stmt = sqlsrv_query( $conn, $sql, $params);
				if( $stmt === false ) {
					echo '<pre>';die( print_r( sqlsrv_errors(), true));echo '</pre>';
				} 
				echo "Record inserted - ".$order."<br>";
			}
			else
			{
				$sql2 = "UPDATE Customer SET name = ?, status= ? where order = ?";
				$params_val = array($name, $status,$order);
					$stmt_val = sqlsrv_query( $conn, $sql2, $params_val);
					if( $stmt_val === false ) {
						echo '<pre>';die( print_r( sqlsrv_errors(), true));echo '</pre>';
					}
					echo "Record updated - ".$order."<br>";
			}
	}
	else
	{
		$row++;	
	}	 			

}