Hello,
To watch TV satellites, dish antenna diameters vary according to the satellite coverage area.
Therefore, I am trying to choose satellite dishes suitable for the selected TV satellites.
Satellites List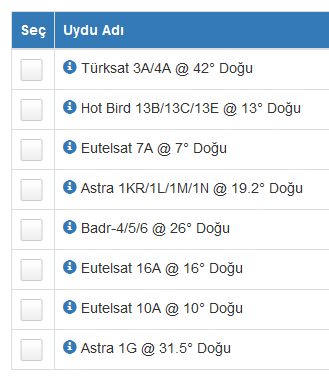 I assign Dish antenna diameter and IDs to the checkbox values.
<input type="checkbox" name="secilen_uydu_id[]" class="QUATTRO" value="90-4">
This way it forms a sequence
Array ( [0] => 90-1 [1] => 80-3 [2] => 120-5 [3] => 80-7 )
90, 80, 120, 80 are the satellite dish diameters, 1,2,3,7 are satellite IDs.
I will separate the satellite IDs and assign them to SESSION
Question 1: how do I separate them and create arrays?
My main question is this:
Note: It is the smallest selectable dish diameter for the satellite. larger diameter can be selected
According to the selected satellites, 3 separate satellite dishes should be listed.
1, A table for an 80 Cm dish antenna
2, A table for an 90 Cm dish antenna
3, A table for an 120 Cm dish antenna
120 cm satellite dish can be selected for all satellites X 4 Dish
If it chooses a 90 cm dish antenna, it must choose a 120 cm dish for a satellite (reguired). 90x3+120=4 Dish
If she chooses a 80 cm satellite dish, she can choose a 120 cm dish for the remaining 2 satellites, or 90 cm and 120 cm
This is hard work, can you help?
Thank you from now